Our signature space, the Alexandrite Suite, is true luxury simply beyond compare. With over 5,000 square feet, the Alexandrite provides ample space to entertain comfortably - and relax as well. The suite includes a private jacuzzi off the master bedroom, a fire pit, a Samsung media wall, a gourmet kitchen, and more.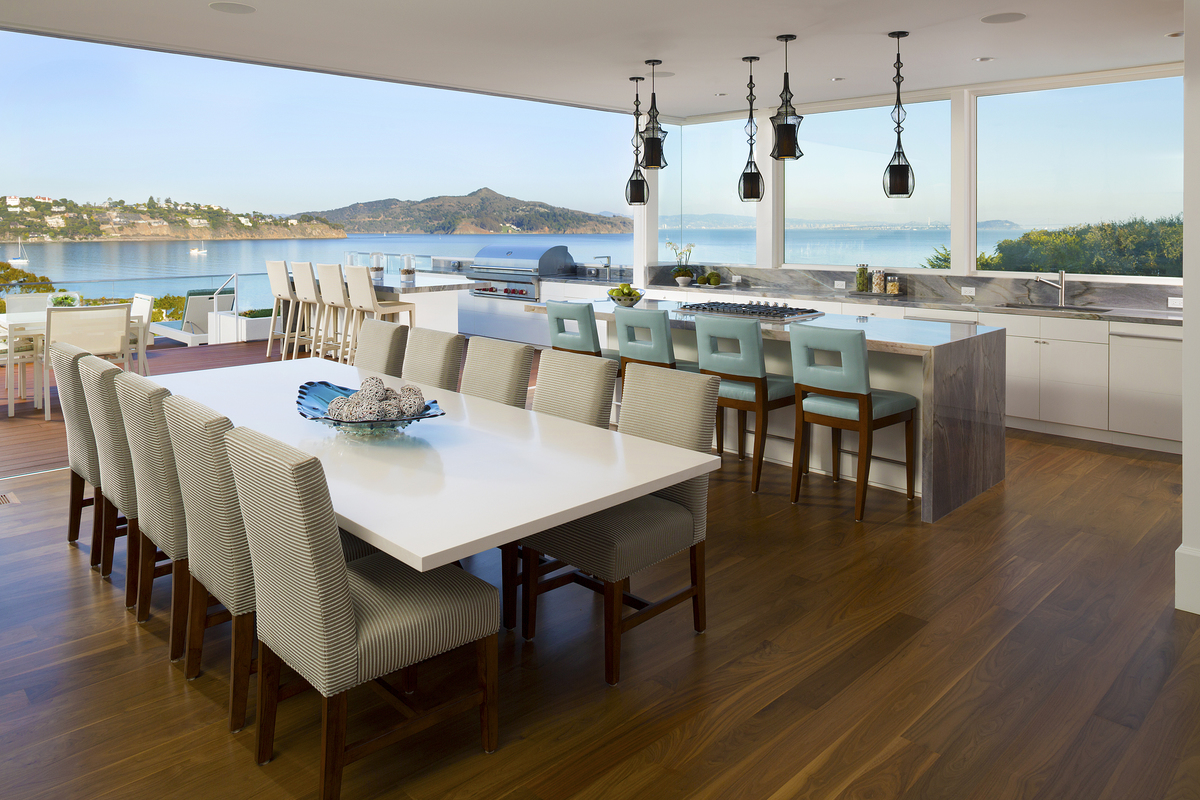 The gourmet kitchen with blue-jean granite countertops is fit for a chef, with exquisite appliances including a top-of-the-line range and convection oven. The adjacent dining room area includes a table which seats 10 against a sparkling backdrop of panoramic bay views. The open floor plan seamlessly connects to a large, 1,500-square-foot outdoor living space for al fresco cooking and dining.
Private Office & Fitness Center
A private office comes fully-equipped with the latest technology to help get the job done. The custom walnut cabinetry and large mahogany desk are accented by unique, original art, curated from galleries in San Francisco and Sonoma. The fitness center features a treadmill, multi-gym, elliptical, yoga supplies, free weights, and a 50-inch flat panel TV.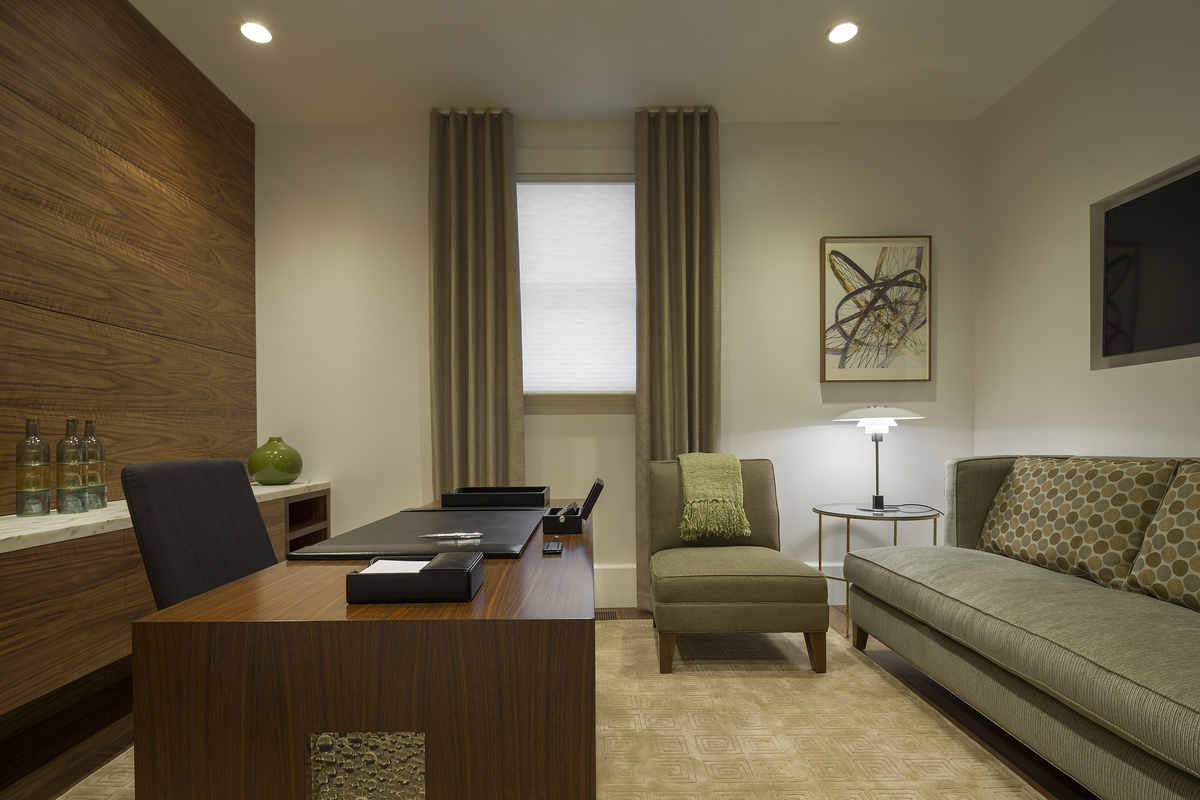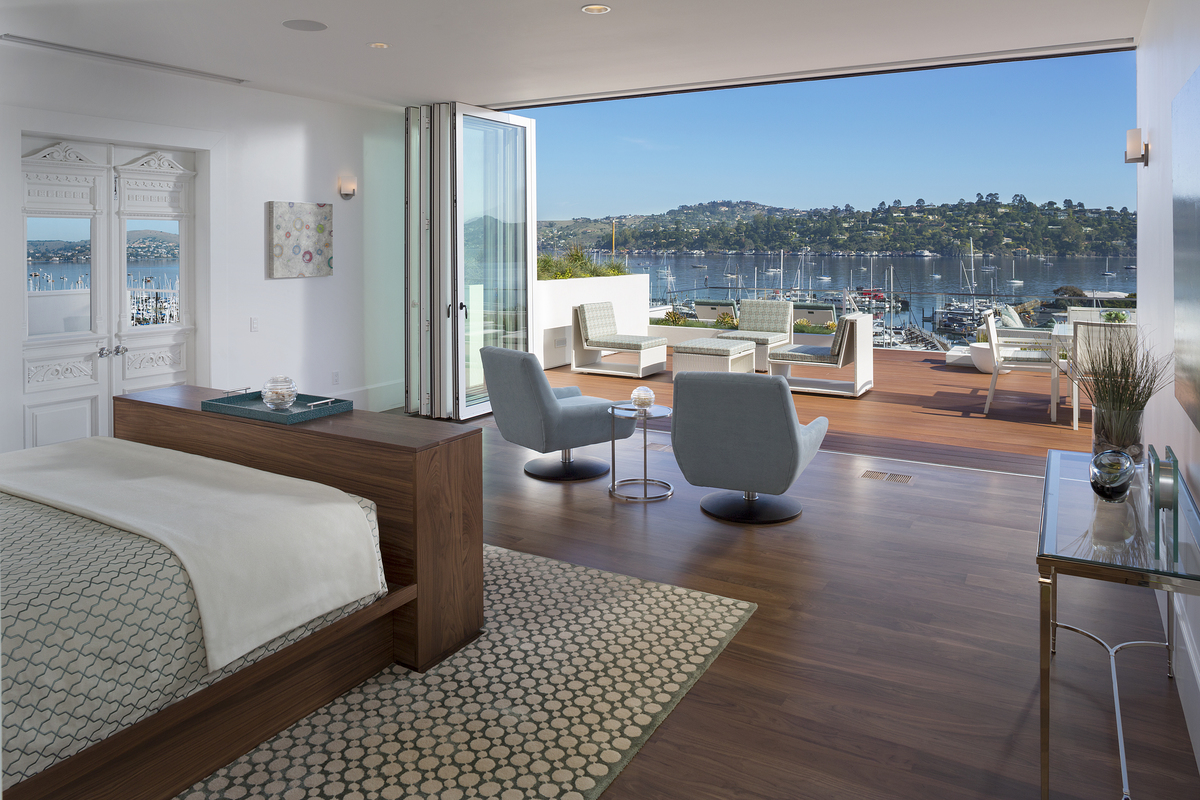 Experience the ultimate luxe comfort in the Alexandrite Suite's over-the-top master suite. Custom-made linens with Kravet fabrics adorn the bed which overlooks picturesque views of the harbor and Belvedere peninsula just across the bay. The large, ensuite bathroom is complete with an oversized shower, separate tub, and dual vanity, while the terrace offers an outdoor hot tub, just off the master bedroom.
Customized Amenities & Experiences
You may request a travel planner to cater specifically to your every need, whether you are interested in sourcing a private chef, personal fitness expert, luxury car service, or dedicated concierge. Experiences can include spa treatments, wine tasting, yacht excursions, yoga on the deck and many more.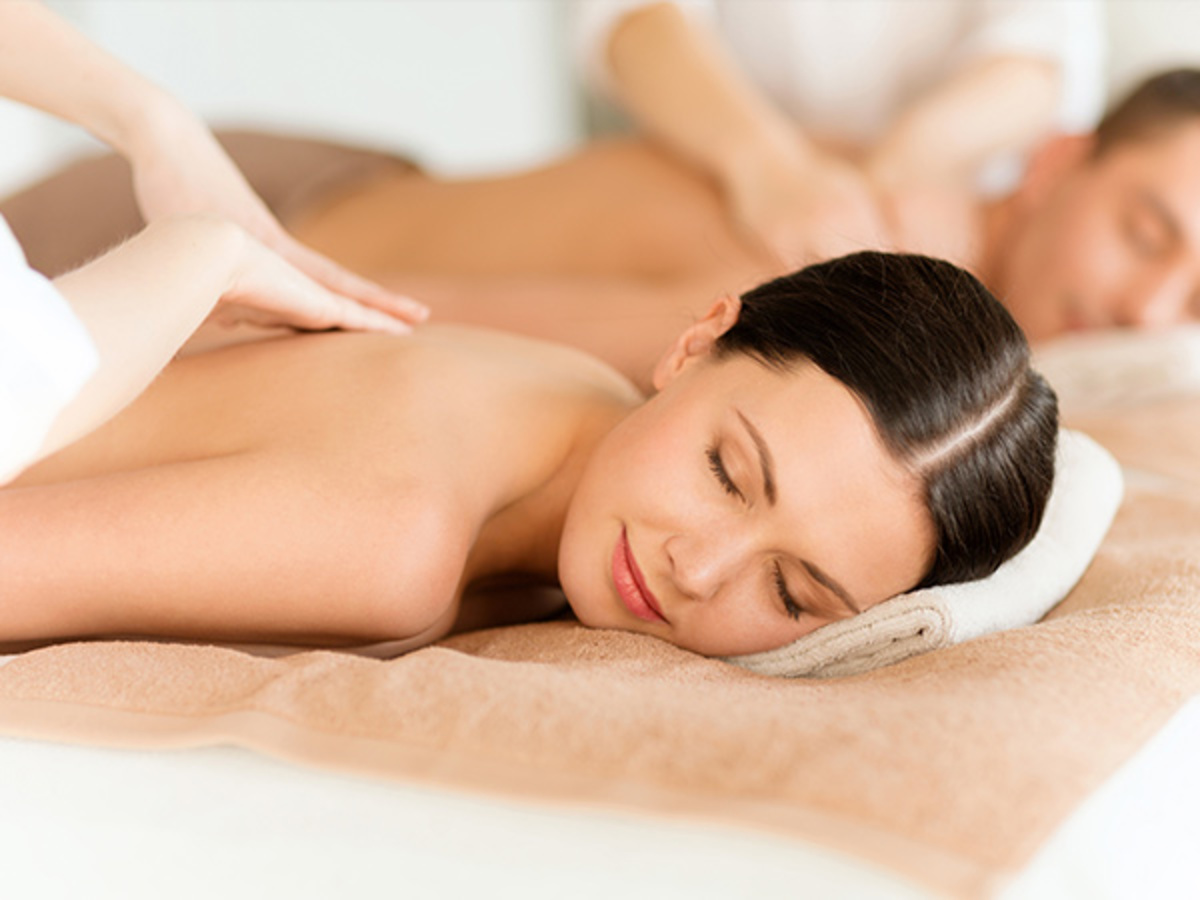 Advanced technology reigns supreme in the Alexandrite. Front-and-center is a nine-panel Samsung media wall, ideal for life-size HD viewing experiences and multi-viewing capabilities. We've even provided portable Control4 touchscreens so you can operate the entire Alexandrite Suite from your fingertips - including the media wall, indoor temperatures, lighting, sound, window coverings, fireplaces and hot tub, along with other state-the-art electronics.
The Alexandrite can be expanded into a two-bedroom, two-and-a-half bath suite, each with private entrances, while the entire mansion can be adapted for a variety of configurations with up to 11 separate bedrooms, perfect for corporate retreats, destination weddings, and multi-generational family getaways.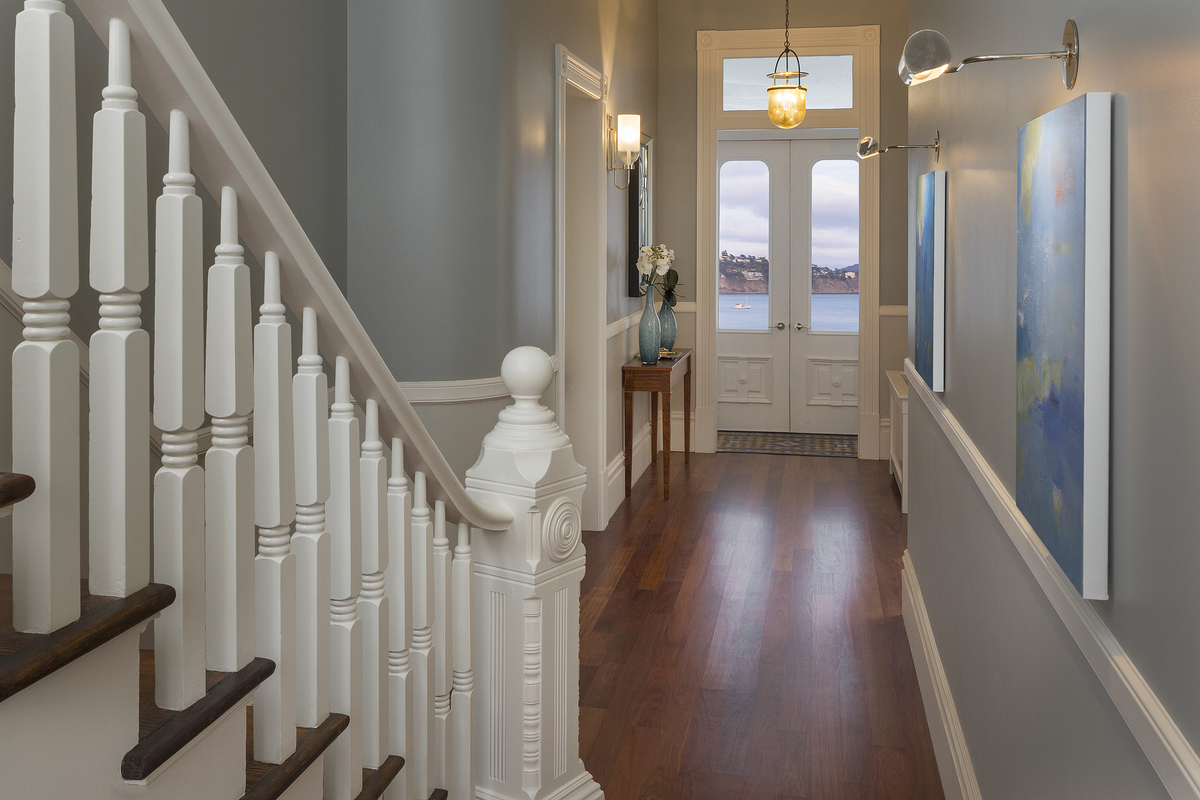 The Alexandrite suite includes:
5,000 square feet of impeccably designed guest quarters
Master bedroom overlooking the harbor and Belvedere Peninsula
1,500 square-foot terrace with panoramic views of the San Francisco Bay and city skyline, complete with fire pit and lounge seating
Expansive floor-to-ceiling glass patio doors, offering spectacular views at every corner
Private outdoor hot tub off the master bedroom
Private office space
State of art technology including a nine panel Samsung media wall, portable Control4 touch screens
Fully equipped fitness center including a treadmill, multi-gym, elliptical, yoga mat and free weights and 50-inch flat-panel TV
Gourmet kitchen with top-of-the-line appliances
Customized amenities – travel planner, private chef, personal fitness expert, luxury car service (Tesla Model X) and dedicated concierge upon request
View More Boutique Accommodations
Unparalleled experiences at exclusive rates.